---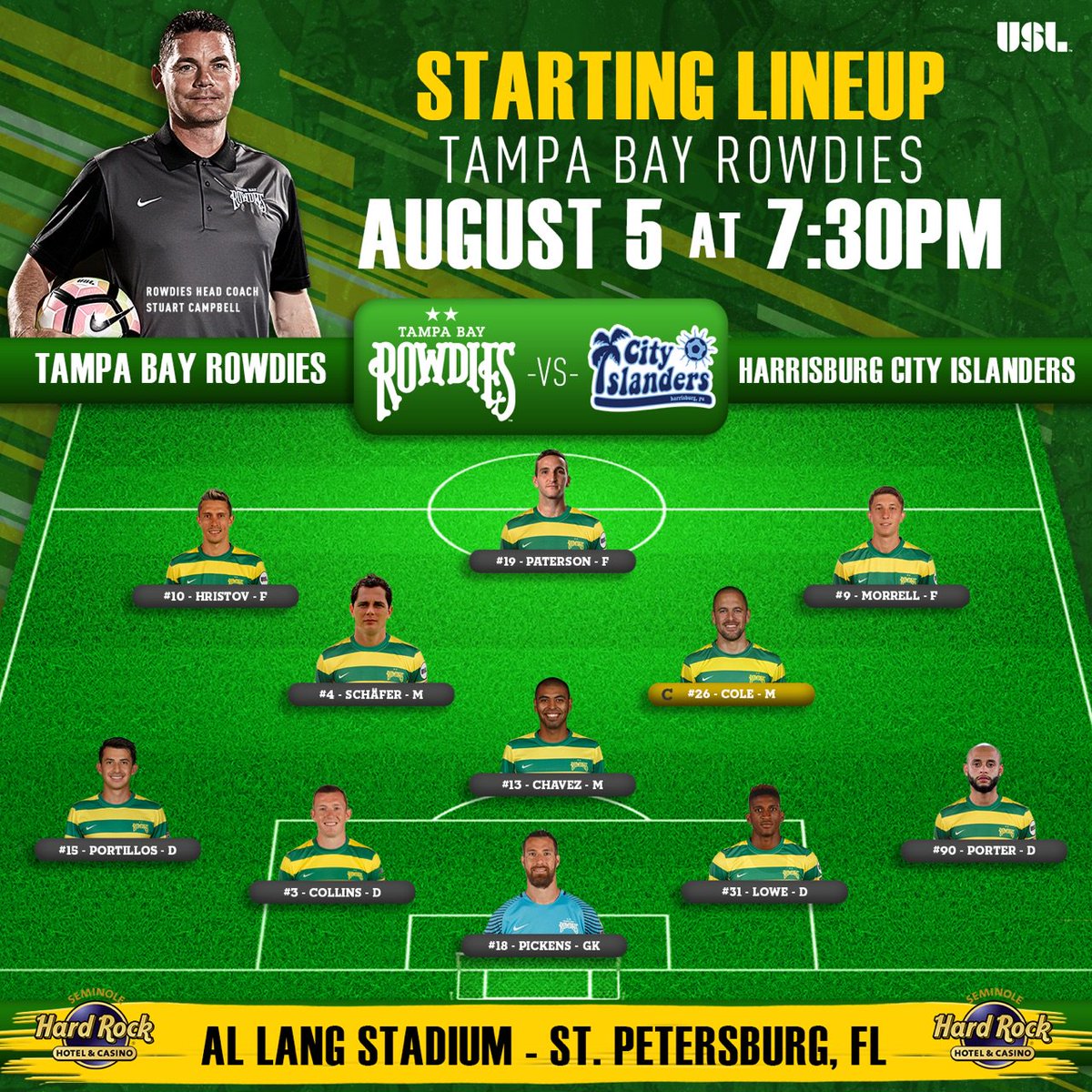 By JEFF HERNDEN
For  Goalkeeper Matt Pickens' 100th Rowdies appearance, Head Coach Stuart Campbell's men produced another brilliant overall display, taking all three points and keeping another clean sheet at home against the Harrisburg City Islanders.  For the third consecutive home match, the Rowdies took the match to their opponent, imposing their attacking, creative and possession-based style throughout.
Campbell again lined his men up in the 4-3-3 for the fifth consecutive match. The Rowdies seemed to suffer an early setback with Captain Joe Cole leaving the match with a back injury in the 7th minute.  With Michael Nanchoff entering the match, however, the Rowdies didn't miss a beat.  The midfield trio of Nanchoff, Marcel Schäfer and Justin Chavez dominated the match.  The three were created well, did well with positional rotation and stayed organized defensively, allowing the Rowdies to control the flow of the game and stop the City Islanders' attack before it could even get started.  The midfield trio's dominance also helped the Rowdies to spread the game out and push defenders Zac Portillos and Kyle Porter forward, putting dangerous crosses in to the box.
On the rare occasion that the Islanders did get forward, defender Neill Collins was there to win challenges and keep the Rowdies on the front foot.  On the even more rare occasion that Harrisburg City ventured in to the final third, either Damion Lowe was there to clean up any through ball, or Pickens made the easy save to earn the clean sheet.
Unfortunately Campbell was forced into his first substitution, but with the Rowdies dominating play, he was again able to make late attacking substitutions to keep legs fresh on an extremely humid night. Walter Restrepo and Darwin Jones were called on in this respect and both used their speed to counter Harrisburg as it pushed for a second-half equalizer.
It is often said that a team is able to learn more from defeat than victory, but one thing we have learned during the recent run of form is that the key to victory for the Rowdies comes from taking the game to their opponent and dictating the flow of play, rather than sitting back and reacting.  While we can surely expect that Campbell will line his men up as he as done over the past five matches, the exception for the trip to St. Louis may be Cole.  St. Louis FC may be sitting towards the bottom of the Eastern Conference, but considering the road woes this season, this won't be an easy trip (as certainly the Battery can attest to given their recent 1-0 loss in St. Louis!).  Let us hope Campbell directs his men to continue to dominate play and attack.
Manager rating: 7/10  —  Overall team rating: 8.5/10
---
Player Ratings
Matt Pickens (GK): Two very easy saves allowed Pickens to keep another clean sheet and celebrate his 100th appearance in style.  Probably spent more energy deservedly celebrating with the Mob post-game than he did during the game. Pickens' communication and leadership plays a major part in the team's current form.  Player rating: 8/10
Zac Portillos (LB): Played more as a winger than a defender in this one.  Portillos' left wing partnership with Schäfer and Georgi is proving to be an imposing attacking threat. He has certainly established himself  as Campbell's first choice. Player rating: 8/10
Neill Collins (CB): Excellent game, the best defender of the night, and nearly Man of the Match. Won all nine of his duels, all four of his aerial duels, and three tackles in addition to making five interceptions.  Major force in central defense and a key man in keeping yet another clean sheet.  Player rating: 8.5/10
Damion Lowe (CB): When the City Islanders realized they could not get through Collins, they tried to go around him. Lowe, though, used his speed and strength to clean up any ball played through.  Lowe had excellent positioning in an impressive display. Player rating: 8/10
Kyle Porter (RB):  Much the same as Portillos, Porter spent most of this one providing width and putting in five crosses on the night. Nice to see him getting forward and providing for the attack. Player rating: 8/10
Justin Chavez (DM): Chavez's importance to this team cannot be overstated. His ability hold the midfield, allowing Schäfer and Nanchoff to run the attack is essential for the Rowdies.  One tackle and three interceptions were all it took in this one. Player rating: 8/10
Marcel Schäfer (CM): While Joe Cole may be the big name player of the club, Schäfer has proven to be the most important and influential player in the Rowdies' attack. Three successful crosses, five chances created, and two assists to go along with winning two tackles, one clearance and one blocked shot wins him the Man of the Match for this one. Player rating: 9/10
© Joe Cole (CM, Subbed off 7′ – Nanchoff):  Unfortunately came off early due to a back injury. With Nanchoff returning to form, and the newfound plethora of attacking options at Campbell's disposal, I won't be surprised if Cole stays home for the trip to St. Louis. Player rating: NA/10
Georgi Hristov (LW): Should have won a penalty in the 77th minute, which surely he would have converted.  With Morrell, Paterson and Schäfer receiving the offensive plaudits recently, Georgi has been somewhat under the radar of late despite some strong performances.  He was dragged down on several occasions when getting forward but it won't be long before he is scoring again. Player rating: 7.5/10
Alex Morrell (RW, Subbed off 79′ – Restrepo): After two consecutive Man of the Match performances, Morrell was quiet in the one, especially when compared to his recent performances. Put in a solid shift, however, with two tackles, three interceptions, three crosses and one shot on target.  Player rating: 7/10
Martin Paterson (F, Subbed off 89′ – Jones): Fourth (should be fifth) goal in his last five matches, Paterson continues to be in fine form.  With the success he's had getting on the end of crosses, combining with teammates and holding up the ball, Paterson is an integral part of the attack and the Rowdies' return to winning form.  Player rating: 8/10
Michael Nanchoff (CM, Subbed on 7′ – Cole): Excellent night deputizing for Cole. Nanchoff was dynamic in attack with eleven crosses and two chances created.  He combined well with Schäfer and Chavez, while also connecting with Paterson.  Player rating 8/10
Walter Restrepo (RW, subbed on 79′ – Morrell): Brought on for some fresh legs to close this one out late and he sure showcased this with a 50 yard sprint combining with Schäfer before finishing with a cool little chip for his first Rowdies goal. Player rating: 8/10
Darwin Jones (F, subbed on 89′ – Paterson): Came on late as the Rowdies closed this one off in style.  Player rating: NA/10
IMAGE, PATRICK PATTERSON/UNUSED SUBSTITUTES