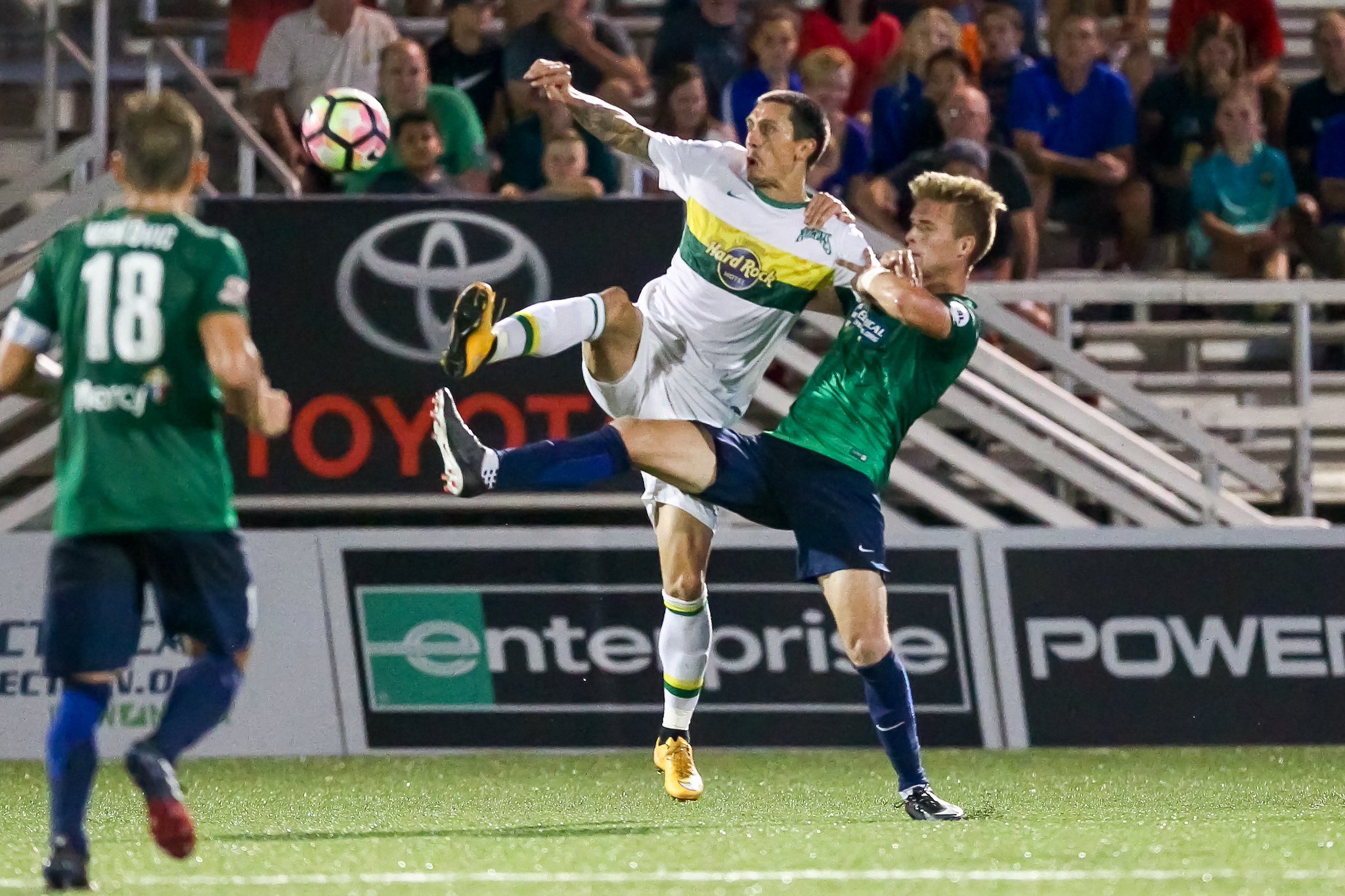 ---
By JEFF HERNDEN
What a difference a week makes. Say it was the travel, or the turf, or tactics, or whatever other excuse you can think of. The reality of the situation is that this was an overall poor performance, and one of the worst of the season. Abysmal start, chaotic comeback, parked the bus, terrible end.  Set aside defender Kyle Porter's beautiful assist to Martin Paterson allowing the Rowdies to take the lead in the 36th minute, and some flashes here and there, the Rowdies lacked any sense of team cohesion for the vast majority of the match. St. Louis pressed high, showed team spirit and energy, took the game to the Rowdies, and deserved the three points.
Head Coach Stuart Campbell made two changes to the lineup, with Michael Nanchoff coming in for the injured Joe Cole, and despite his impressive run of form, Alex Morrell was replaced by Walter Restrepo.  With the Rowdies conceding two goals in the first five minutes, it is difficult to say how the Rowdies intended to play this one tactically. What we saw though was a frantic, and mostly chaotic counter attack.  The first two goals did not come as a result of creativity and teamwork, but rather from mistakes made by St. Louis. Whether a counter attacking style was the tactical intention of Campbell from the beginning or came as a result of St. Louis' ability to impose their high-pressing attack is unclear. What is clear however, is that the only time the Rowdies seemed to play with any sort of urgency was after going down 2-0 early, and again after St. Louis equalized in the 67th minute.  This was a disappointing display from Campbell's men. Champions are able to eke out wins despite poor performances, but the Rowdies have failed to do that on several occasions this season, despite having the opportunity to do so on several occasions. It's easy to win when you play well, but if the Rowdies want to win a USL Championship, they'll have to learn how to gind out results from poor performances.
On the defensive side of the ball, the Rowdies spent much of the match on the back foot, reacting to St. Louis.  In the first minute, defender Damion Lowe misjudged a long ball and was poorly positioned, allowing St. Louis attacker Daniel Jackson to waltz past him and slot in past a helpless Matt Pickens.  Barely four minutes later, defender Neill Collins got caught out of position following a missed interception, leading to a couple passes that cut through the rest of the defense like a hot knife through butter, ending in a good finish from St. Louis midfielder Seth Rudolph.  Immediately following the goal, Pickens showed his excellent leadership skills, gathered his team, and righted the defensive ship. The Rowdies defensive stand would end an hour later as St. Louis equalized when Lowe was beaten to the header by Rudolph for his second goal of the night.  In the dying minutes after going down to ten men, the defense failed to step their line forward following a St. Louis corner kick, allowing St. Louis defender Konrad Plewa to stay onside and deflect in a shot from distance for the game winner. For much of the match, the back line looked sluggish and disorganized.
In a game where the Rowdies struggled to impose their style of play on their opponent, and with three players in yellow card trouble, Campbell had an opportunity to use his substitutions to affect the play as well as protect the lead. Credit to Campbell for bringing on forward Darwin Jones, to provide speed for the counter attack, and replace Martin Paterson, who was on a yellow card. The inclusion of Morrell in the 72nd minute brought much needed energy to the Rowdies, but arguably could have been brought on for Georgi Hristov, who was also on a yellow card, instead of Restrepo, who seemed to still have plenty of gas in the tank.  Campbell's first substitution however, should have been for Lowe.  With Lowe not up to his usual standards as well as earning a yellow card in the 25th minute, the prudent move would have been a half-time substitution, bringing on Tamika Mkandawire.  If not at half-time, then surely Lowe should have come off after either of his 52nd or 64th minute tackles that could have easily gotten him his second yellow.  Instead, the somewhat inevitable came in the 85th minute, and with Lowe receiving his marching orders, midfielder Michael Nanchoff was then sacrificed, and Mkandawire came on for the final minutes of play.
While the Rowdies tactical approach of playing a counter-attacking style against an inferior side as well as Campbell's substitutions certainly played a part in the loss, the real culprit here was just a generally poor team performance full of sloppy passing and chaotic play.  Full credit to St. Louis for their tenacity and desire in this one.  With five of our remaining nine games on the road, Campbell and his men need to find a way to stop conceding late goals and pick up wins away from home, or else we risk dropping not only more points, but also places in the standings and with the Rochester Rhinos and Bethlehem Steel hot on our heels and having two games in hand, the Rowdies are at risk of missing out on a home playoff match.
Manager rating: 4/10  —  Overall team rating: 4/10
---
Player Ratings
©Matt Pickens (GK): Not much Pickens could have done about any of the goals. With the chaos and abysmal defending in front of him, he did what he could to rally his troops, especially following St. Louis' second goal. Excellent leadership as usual, but we really could have used a magical save to rescue at least a point. Player rating: 6/10
Zac Portillos (LB): With the Rowdies sitting back defensively most of the match, Portillos was hardly able to get forward, let alone combine with Georgi and Schäfer as in previous matches.  Lost 6 of his 9 duels and allowed his man to get ahead of him and score St. Louis' second goal. Player rating: 5/10
Neill Collins (CB): Only two clearances, two duels won, and one tackle in this one. Collins struggled to keep his defense organized, especially in the early and late minutes.  Clearly an off night.   Player rating: 5/10
Damion Lowe (CB): Easily a night to forget for Lowe. Poor defending resulted in the first goal of the night and was beat to the ball for the third.  Should have been given his marching orders early in the second half. Eventually sent off in the 88th minute.  Should have been replaced at half-time. Player rating: 2/10
Kyle Porter (RB):  Man of the Match for this one. Eight duels won, five tackles, two clearances, and an excellent assist for Paterson's goal. Porter was the most consistent player of the night.  Player rating: 6/10
Justin Chavez (DM): With St. Louis pressing high and the Rowdies playing a long-ball counter attacking style, Chavez was largely bypassed in this one.  When the Rowdies lost possession in the attacking third, instead of pressing and allowing Chavez to clear up anything that got past, they dropped back deep.  Wasn't at his best. Player rating: 5/10
Marcel Schäfer (CM): Did what he could to press the team forward but had a tough time connecting with the front line. On the rare occasion he was able to do so, scoring opportunities arose. Neat finish for his third goal of the season, but the counter attack largely bypassed our most influential player.  Player rating: 6/10
Michael Nanchoff (CM, Subbed off 88′ – Mkandawire):  Similar night to Schäfer. Difficult time connecting creatively with the attacking, but was able to put in some quality crosses and corner kicks and set pieces, creating four scoring chances, and earning one assist. Had an opportunity for a potential match winner in the 78th minute, but for an excellent save from the St. Louis keeper. Probably should have gone for power over placement.  Player rating: 6.5/10
Georgi Hristov (LW): After creating chances and coming close to scoring for the past few matches, after a couple lucky rebounds Georgi finally got his long-awaited goal.  28th minute yellow card meant Georgi had to be careful with his defensive duties much of the game.  Aside from the goal, was quiet offensively for much of the game though he looks his most dangerous when he was able to combine with Schäfer on the left side. Player rating: 6/10
Walter Restrepo (RW, Subbed off 72′ – Morrell): Battled up and down the right side for his entire 72 minutes but generally found it difficult to connect with his teammates or create chances.  Hard working, but ineffective.  Player rating: 4/10
Martin Paterson (F, Subbed off 58′ – Jones): One positive from the night was that Paterson continues his excellent scoring form. He worked hard in his 58 minutes but was severely lacking in service. Spent much of the night with his back to goal, trying to receive 40 yard long ball clearances. One touch in the box was his headed goal. Player rating: 5/10
Darwin Jones (CM, Subbed on 58′ – Paterson): Brought on to the speedy outlet man in the counter attack and did plenty of running but was unable to find himself any quality attacking opportunities in his 32 minutes of play. Tough night.  Player rating 4/10
Alex Morrell (RW, subbed on 72′ – Restrepo): Brought on for his attacking creativity. Looked lively on the dribble, but was largely held in check by the St. Louis defense.  Player rating: 5/10
Tamika Mkandawire (D, subbed on 88′ – Nanchoff): Should have come on for Lowe much earlier.    Player rating: NA/10